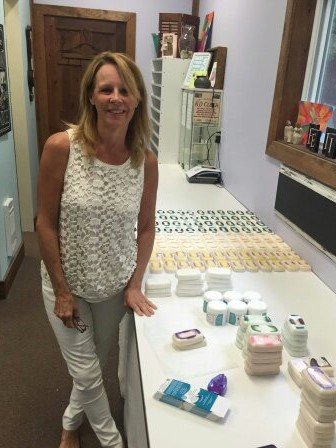 Our Story
Natural Soaps and Crafts is a Canadian business, owned and operated in Haliburton, Ontario by Deborah Bishop.  Deb purchased the business a few years ago, from a Cornwall-area couple who had spent a number of years developing a proprietary formulae and uniquely mixed recipes for a number of personal care products that included goat milk as a key ingredient.  The previous owners had also developed a foundation of retailers and customers whose loyalty continues and grows, through Deb now, to revolve around the wonderful benefits from the products for the whole family, as well as the great customer service satisfaction.
Our business focus is on the hand production of high quality products that are made with natural, biodegradable ingredients.  We are proud to say that all of our unscented products (soaps, shampoos, conditioners, body washes and cream) in particular, are safe for babies or those with allergies and skin sensitivities.
ABOUT THE HALIBURTON HIGHLANDS - Situated between the raw beauty of Algonquin Park and the cottage haven of Muskoka, the Haliburton Highlands has made its mark as an outdoor adventurer's paradise and a popular tourist destination with over 600 lakes to choose from.  Renowned for dense forests, rolling hills and jagged rock faces, the area is a popular and challenging destination for hikers, skiers, dogsledders and white water rafting enthusiasts.  The locals will welcome you with a warm, community-oriented hospitality that we Canadians have become famous for.  
As someone who was born and raised in the Highlands, Deb and her family have truly appreciated and benefited from the natural, clean beauty and healthy atmosphere. With this in mind, Natural Soaps and Crafts values a natural, clean and healthy alternative to personal care products for the whole family.
Our Mission is simple:
"To Provide Quality Products and Service To Our Customers at the LOWEST PRICES Possible." 
We take great pride in our company, our commitment to customer service and in the products we sell.  
Our online store is designed to provide you with a safe and secure environment to browse our product catalog.
You may also like to visit the growing number of FINE Retailers and Distributors who sell our products. 
Most of those listed carry the full range of our products. 
If they don't have what you're looking for, please ask them to order it for you, or come back here.